Classical Tahoe 2021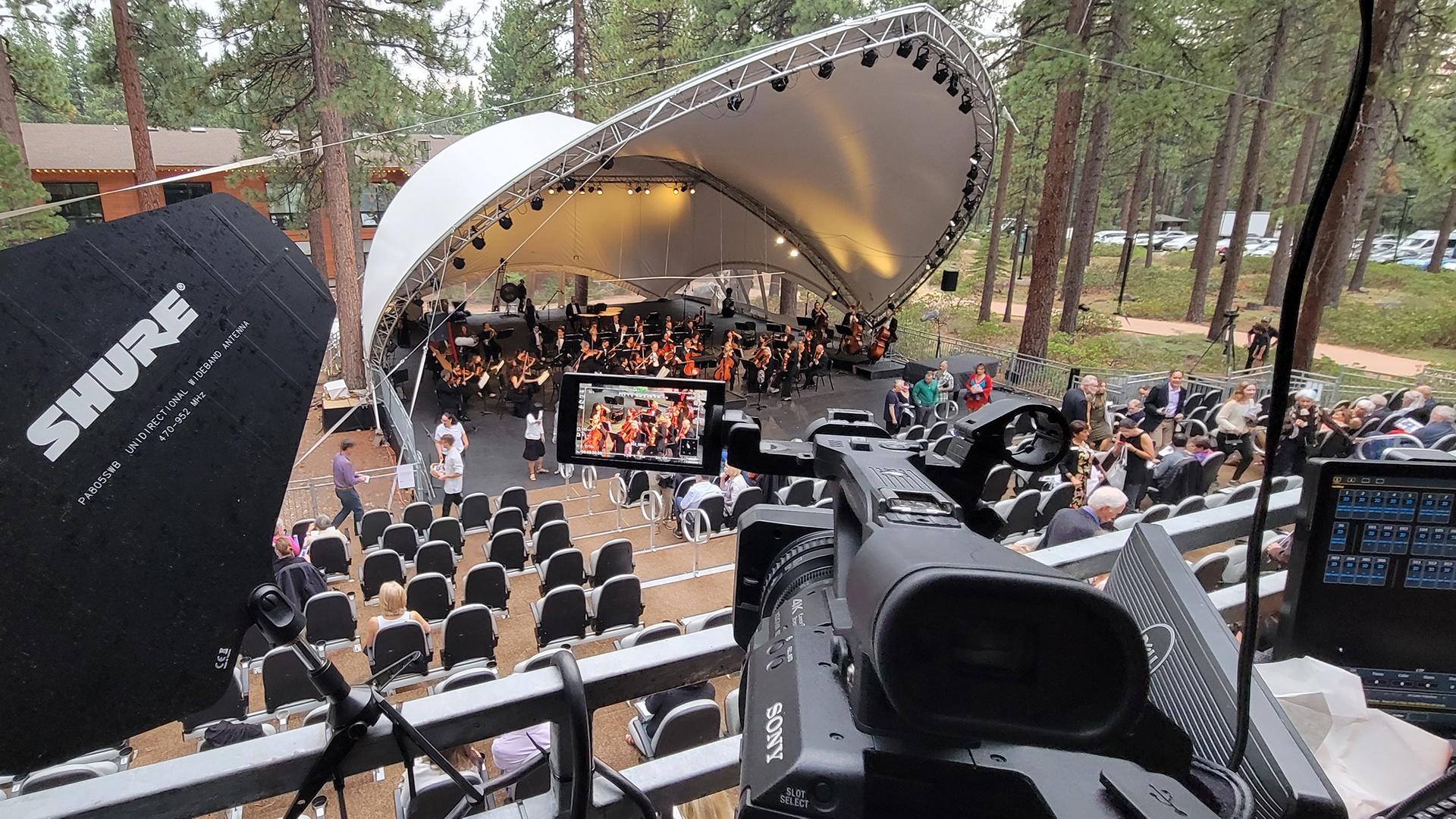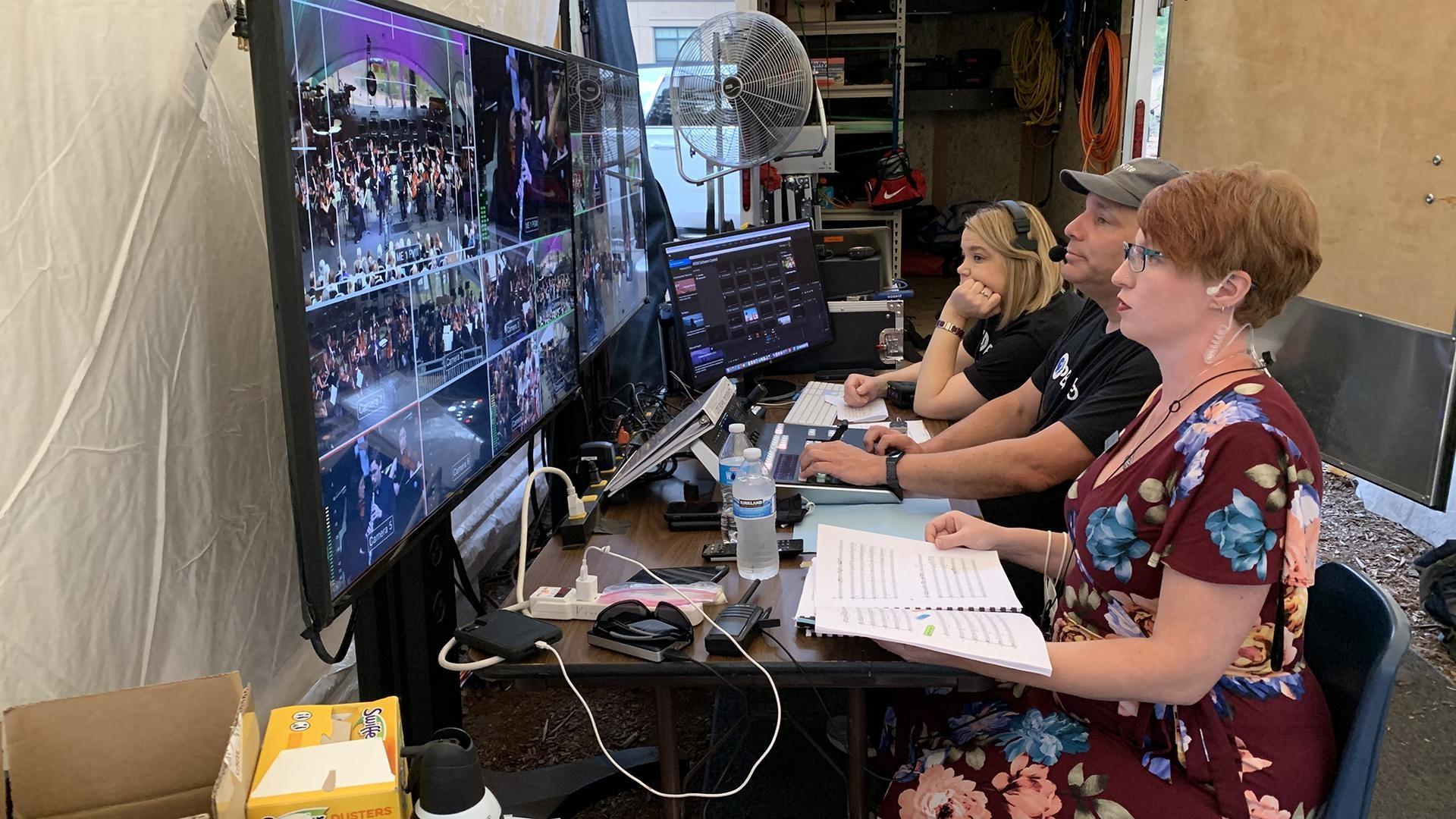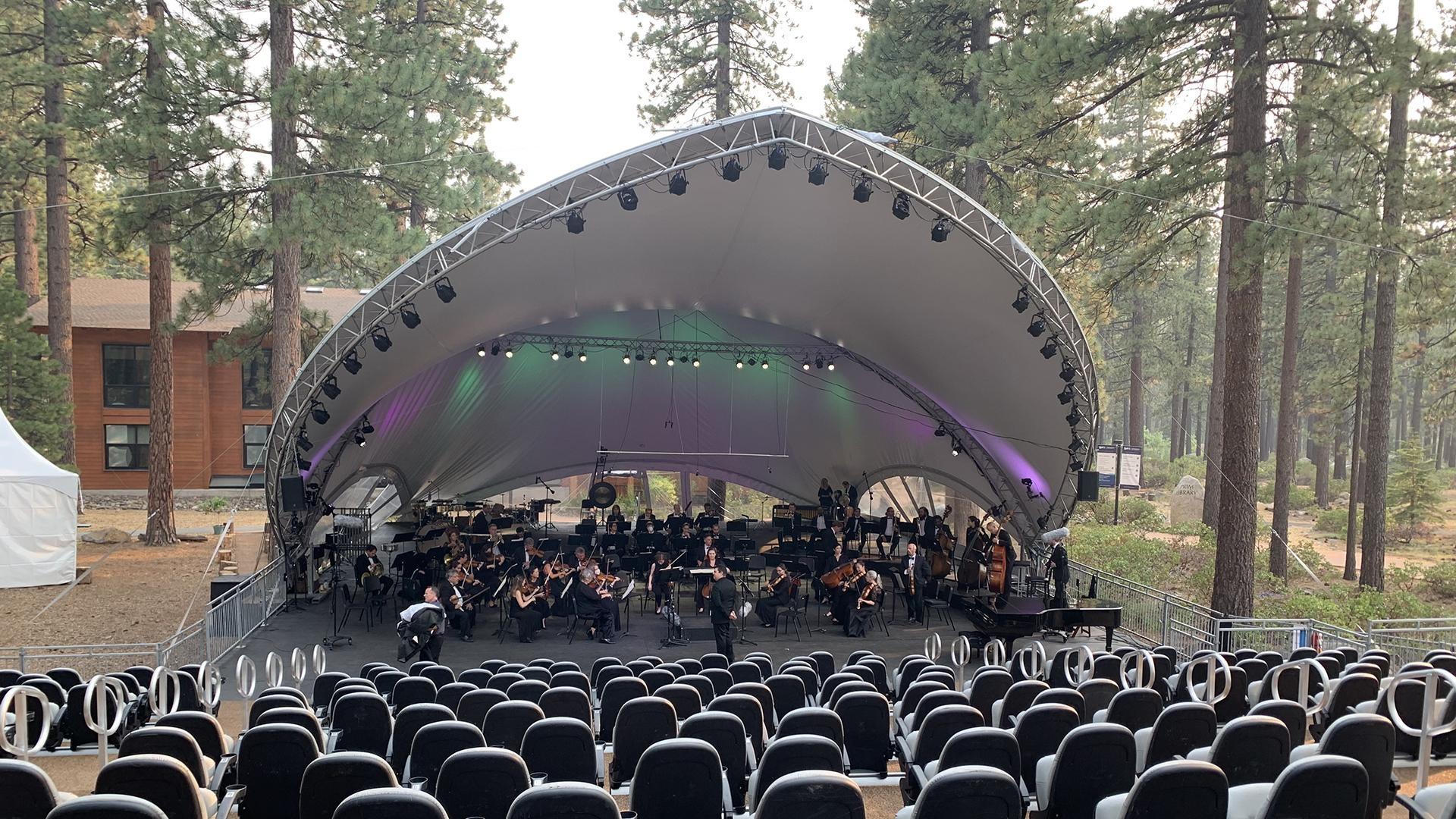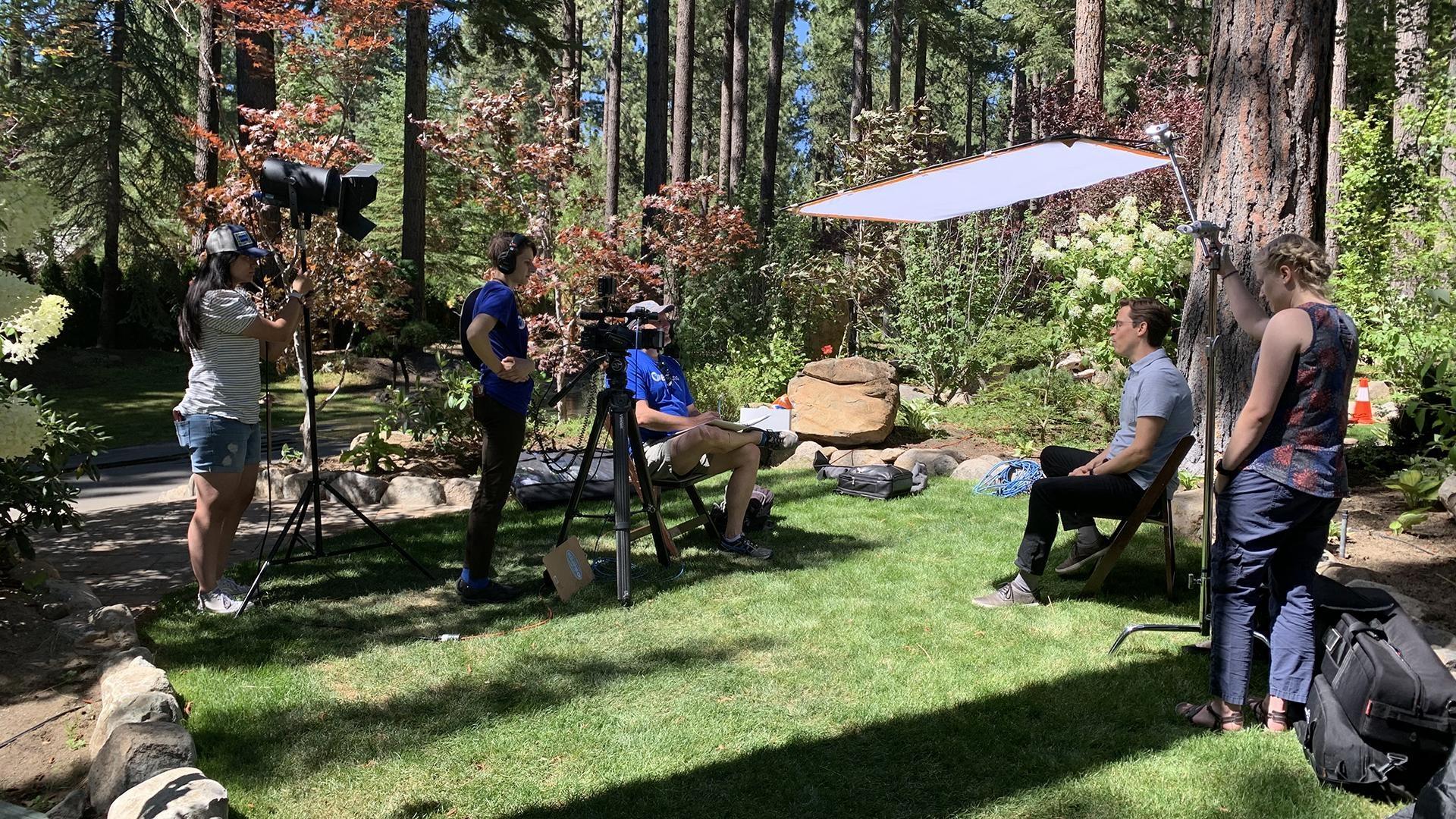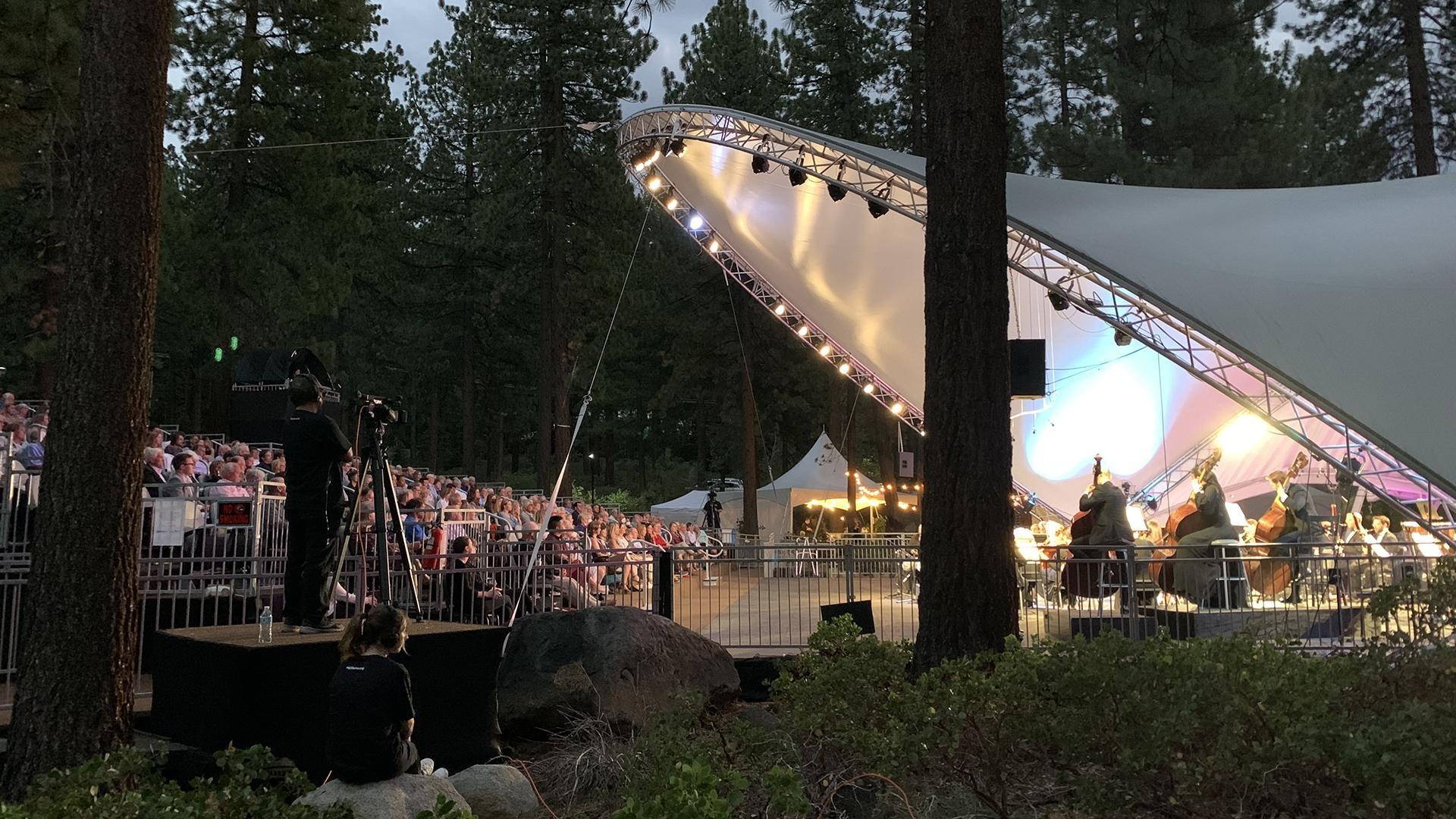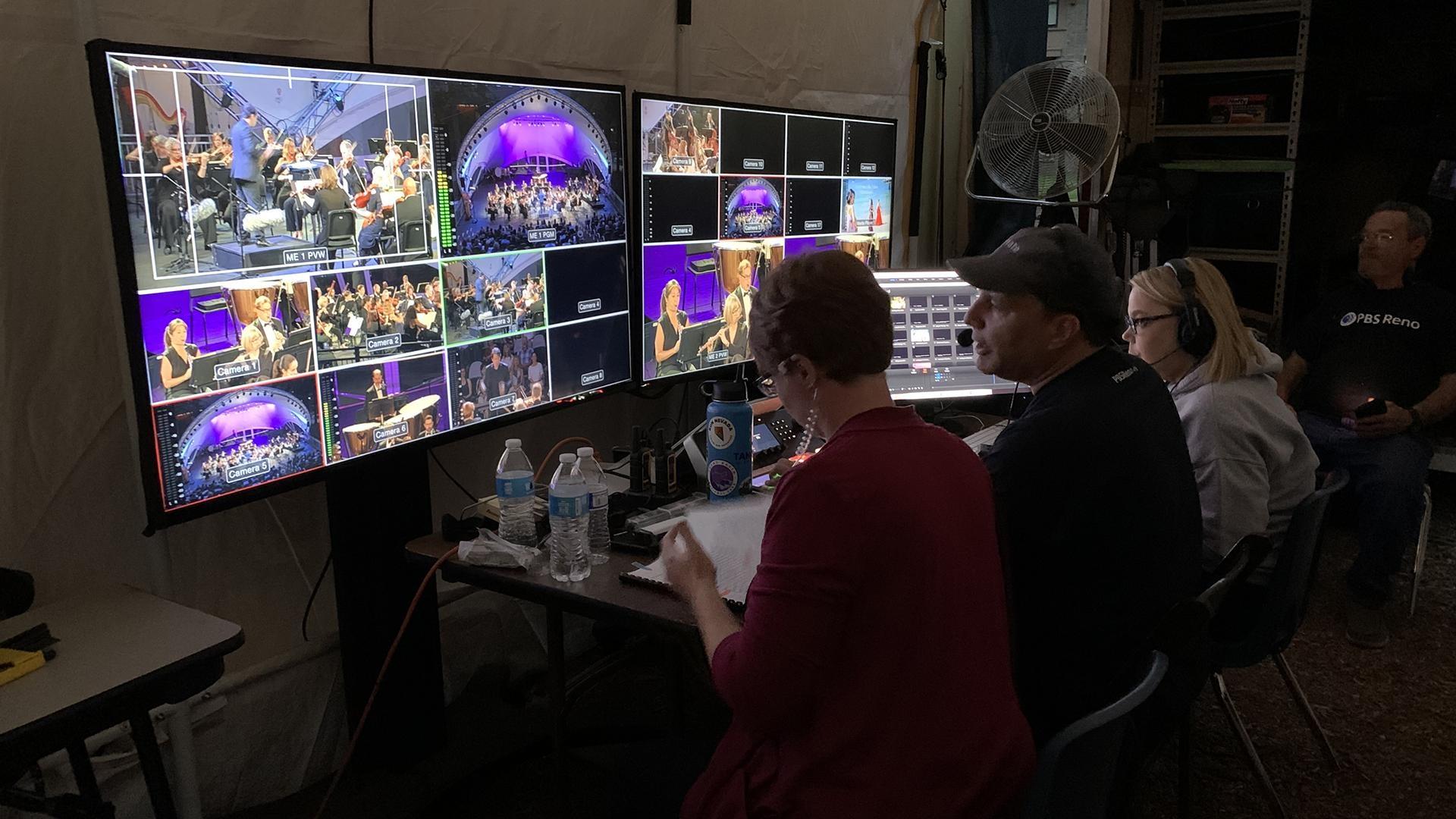 PBS Reno Production Classical Tahoe Underway
This is the second year PBS Reno and Classical Tahoe have teamed up to provide a livestream and a celebrated series to viewers across the globe
RENO, NV (Aug. 13, 2021) – PBS Reno is heading into its third week of its Classical Tahoe series production, which includes a livestream online and a multi-part series.
The Classical Tahoe Chamber Music Series is celebrating its 10th anniversary at the new Ricardi Pavilion located at Sierra Nevada University in Incline Village, Nevada. The pavilion provides an amphitheater performance under the stars. The white-peaked canopy opens to the audience seated in a custom-built, 20-row grandstand among the trees, offering fabulous sight lines from pairs of luxury seats distanced in every direction.
Classical Tahoe presents orchestral concerts on Thursdays through Sundays for three concurrent weeks; in 2021, the series began July 29 and concludes on August 14.
PBS Reno's Production and Technology teams installed a multi-camera setup to capture six nights of Classical Tahoe. The performances are livestreamed from the Classical Tahoe website; the final livestreams will take place on August 13 and 14 at 7 p.m. The footage captured from the six nights will be edited into a multi-part series that will debut on PBS Reno channel 5.1 in January 2022. The episodes will also be available to watch on PBS Reno's website.
"We are thrilled to partner with Classical Tahoe for this livestream and subsequent series on PBS Reno," said Dave Santina, PBS Reno Director of Local Content. "PBS Reno's Technology and Content & Marketing departments teamed up to upgrade our technology and incorporate state-of-the-art equipment to bring the spectacular and inspiring music of Classical Tahoe to viewers around the world. We are proud of the work this partnership has produced and we look forward to presenting Season 2 of the Classical Tahoe series this winter."
"The PBS Reno team is a perfect partner for the Classical Tahoe Orchestra and team," said Karen Craig, Classical Tahoe Executive Director. "PBS Reno's commitment to the highest quality broadcast, engaging storytelling, and exceptional teamwork makes for livestream experiences that are not to be missed. The PBS Reno partnership has enhanced our reputation with our musicians and soloists who are choosing to perform at Classical Tahoe so that their colleagues, friends, and family can watch their artistry in real-time on the livestream, and then, in perpetuity, via the produced six-episode series available on PBS Reno."
About Classical Tahoe
Classical Tahoe is a world-class celebration of the arts that enriches Lake Tahoe's cultural, educational, and community vitality. The festival includes musicians coming from 20 of America's leading orchestras. The intersection of top-level players from across the industry is incredibly unique, including virtuoso musicians from the Metropolitan Opera Orchestra, San Francisco Symphony, Seattle Symphony, Los Angeles Philharmonic, and others. Highlights include the world premiere performances of Aldo Lopez-Gavilan and Chris Brubeck, along with Beethoven, Tchaikovsky, Mozart, Gershwin, Bernstein, Copland, and more. The summer festival takes place on the campus of Sierra Nevada University and will celebrate its 10th Season, July 30-August 14, 2021. The festival experience delights audiences with its superb concerts, sculptural pop-up pavilion, the intimate rapport between community and musicians, and educational programs in the majestic Lake Tahoe setting. Learn more at classicaltahoe.org
About PBS Reno
As of November 2020, PBS Reno is watched by more than 124,000 people and more than 85,000 households weekly in northern and central Nevada and northeastern California, with viewership on multicast channels Reno Create and PBS KIDS Reno. PBS Reno channels are also available on cable, satellite services, and via livestream on YouTube TV. PBS Reno provides PBS national programming and award-winning, locally-produced content. PBSReno.org provides engaging interactive content, including the video portal at watch.PBSReno.orgthat streams all locally-produced content and most PBS national content. PBS Reno serves students, teachers, parents and caregivers through immersive educational services including Ready To Learn Workshops that bring classroom lessons to life. Through the support of local corporations and foundations, as well as individual members, PBS Reno has been delivering public television and educational services to the communities it serves since 1983.