Give through the Community Foundation of Western Nevada
PBS Reno is seen by more than 115,000 people weekly in northern and central Nevada and northeastern California with additional viewership on multicast channels Reno Create and PBS KIDS Reno. PBS Reno channels are also available on cable and satellite services. PBS Reno provides PBS national programming and award-winning, locally-produced content. PBSReno.org provides engaging interactive content, including the video portal at watch. PBSReno.org that streams all locally-produced content and most PBS national content.
PBS Reno serves students, teachers, parents and caregivers through immersive educational services including Ready To Learn Workshops that bring classroom lessons to life. Through the support of local corporations and foundations, as well as individual members, PBS Reno has been delivering public television and educational services to the communities it serves since 1983.
Invest in PBS Reno with a contribution of $1,000 - $10,000.
PBS Reno Silver Circle members share a vision that with proper and sustained funding PBS Reno will continue to be a vital institution using the power of trusted, public service media to communicate the values and needs of our community.
Membership levels begin at $1000 and help provide critical funding to support our award-winning programming, educational and outreach programs that connect our community.
Learn more about the PBS Reno Silver Circle.
PBS Reno Programming
While most of the programming aired on PBS Reno comes from the national Public Broadcasting System (PBS) feed, our station makes it a priority to supplement PBS programming with other national programming and locally produced programs related to the concerns and interests of residents in northern Nevada. We believe this expanded program offering is an important part of our mission to enrich, inspire, entertain, and delight our community. The PBS Reno Programming Excellence Fund provides the funds needed to expand the programs on PBS Reno.
Learn more about the PBS Reno Programming.
PBS Reno Educational Service
Beyond on air programming, PBS Reno connects our community through our direct, in classroom, educational services:
Ready To Learn — Multimedia educational workshops in classrooms and community organizations
PBS LearningMedia — Over 100,000 educational digital resources for educators to use to augment traditional classroom instruction
Through our collaborative partnerships with our generous donors we are able to offer these services to those we serve at no cost.
Learn more about the PBS Reno Educational Services.
For more information on how to donate to PBS Reno, contact:
membership@pbsreno.org
775.600.0555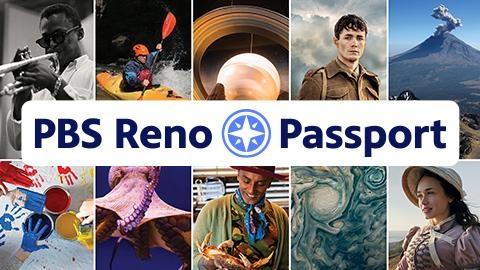 Member benefit
PBS Passport is an added benefit of your PBS Reno membership. Stream more favorite PBS shows.