Become A Community Partner with PBS Reno
PBS Reno offers unparalleled visibility for corporate sponsors and donors to be known to upscale consumers, business leaders and community decision makers.
PBS Reno broadcasts three (3) non-commercial, television channels that offer unique opportunities for businesses to feature products and services in a dignified, uncluttered environment where messages can have maximum effect:
PBS Reno:
Our flagship service with programming such as Antiques Roadshow, PBS NewsHour, Sesame Street and PBS Reno productions like Wild Nevada and ARTEFFECTS.

PBS KIDS Reno:
Celebrated PBS KIDS Reno programs available 24 hours a day, 7 days a week in free localized broadcasts and live stream.

Reno Create:
24/7 lifestyle programming featuring Cooking, Arts and Crafts, Gardening, Home Improvement and Travel. Favorites include Lidia's Italian-American Kitchen, Rick Steves' Europe and This Old House.
PBS Reno Delivers Extensive Coverage:
Broadcast signal reaches throughout northern Nevada and eastern California.
70,000 Households (168,000 people) watch PBS Reno in a given week.
PBS Reno Delivers the Right People:
8.1% of viewers have household incomes of over $200,000 per year
12.8% of viewers have post graduate degrees
11% of viewers own their own business and 3.6% are company presidents
PBS Reno Delivers Branding:
61% of viewers believe PBS sponsors are industry leaders
59% of viewers are more likely to do business with PBS program sponsors
68% of viewers believe PBS sponsors are committed to quality and excellence
PBS Reno Delivers a Powerful Partnership:
Connect your brand around signature PBS Reno and PBS program brands
Enhance your company's brand image
Deepen your company's relationships with local customers
PBS Reno Delivers an Uncluttered Environment:
PBS Reno and PBS have by far the fewest non programming minutes on television
PBS Reno averages 5:01 minutes per hour
CBS broadcast average is 15:12, Discovery's is 15:31, and CNN's is 13:57
PBS Reno Delivers Your Message to an Engaged Audience:
93% of viewers agreed that PBS programming is entertaining
92% of viewers agreed that watching PBS programming is "time well spent"
80% of viewers agreed that PBS sets the standard for quality programming
PBS Reno Delivers an Extensive Program Guide:
The PBS Reno program guide is distributed to more than 7,000 households per month.
Download this month's guide.
PBS Reno Delivers a Robust Web Experience:
Our website, PBSReno.org, averages over 200 visits each day.
Over 6,000 unique visitors per month.
Over 1.300 page views
An average time of over 2 minutes spent on the website per visit.
Monthly eNewsletter to 5,600 subscribers
Corporate Sponsors can also take advantage of supporting special community and outreach events such as Aged to Perfection, Silver Circle Major Donor parties, PBS Reno Kids Club events, PBS personality shows and local screenings.
For more information and to discuss the possibilities, contact:
Diane Barrett
Community Partnership Executive
dbarrett@pbsreno.org
775.600.0584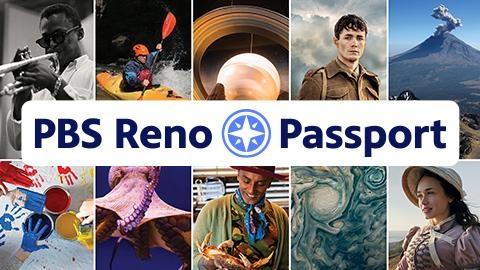 PBS Passport is an added benefit of your PBS Reno membership. Stream more favorite PBS shows.